Over the years, social media has become much more than a platform for uploading pictures and hitting likes. People are now using it as a means of communication with their favourite brands and posting their reviews and feedback.
73% of marketers have defined the results of their SMM efforts businesses as very effective or somewhat effective. More importantly, 71% of customers are happy to recommend certain brands to their friends only because they had a great interaction or customer experience with those brands on social media.
These numbers indicate the importance of customer care via social media. Companies are now using purpose-built tools for handling their social customer care and even hiring experts for their social media platforms.
The introduction of digital tools and channels have made customers more influential and powerful. You have to make sure that your social media team is well-equipped and skilled in managing customer care. Poor customer service, delayed or harsh replies, or no response to feedback may land you in hot waters.
Statistics Talk
Your Facebook page or Twitter handle is more than a branding tool. The way your customer service team responds to the feedback and queries at social media channels has a great impact on retaining your customers. Your social media respondents must be equipped with social-media-specific writing skills.
Before we move on to the different ways of improving your social media customer service, let's have a quick look at some stats.
Response Time Matters
No customer likes to wait for a response at social media platforms. Thanks to social media customer support, customer expectations are only rising. According to a survey, more than 42% of the customers expect to get a response on social media within an hour.
Conversocial's report on "The State of Digital Care (2018)" revealed that one-third of the consumers could not wait more than 30 minutes for a brand's response on social media.
Facebook marks a page as "quick" if it replies to the messages within 5 minutes or even less. Talk about Twitter, and the story is no different. 53% of consumers expect to get a reply within 60 minutes. The hopes get higher when the customer has a complaint. 72% of customers want a response in 30 minutes.
Reviews are Vital
45% of customers share their bad customer service experiences on different social media sites. Interestingly, more than 71% of people make their purchases on social media referrals. Moreover, 88% of consumers trust online reviews when it comes to buying.
These are just a few of the statistics that show how important it is to have a skilled social media customer service team.
Must-Have Writing Skills for your Customer Service Agents
1. Your Brand's Voice should Echo in the responses
A big mistake that customer service agents often commit is an indifferent tone in their responses. You may remove a comment or delete a tweet, but you can't escape the screenshots. It is important to understand what is your brand's voice or strategy.
Let's say that your company has a friendly marketing tone. Now imagine the impact of a cold or formal response from your end on social media. Not only will this offend the user, but it will also show a disconnect between the voice of your company's marketing strategy and the voice in the customer service.
It is a perfect example of how your customer care agent should respond to the customers. The use of "I" is giving a personalized touch. Not only the brand has apologized but also thanked them for their feedback, thereby addressing their concern.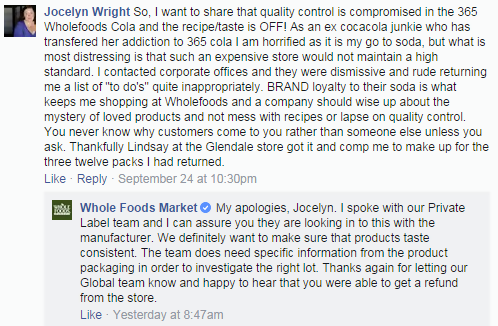 2. If the Need of a PM/DM Arises, Justify It to the Customer
Sometimes, your customer service agent may have to switch from the public platform to a private conversation with the customer. The need may arise due to many reasons, such as
The consumer is fussy and is annoying other users
The customer agent need answers to some questions so that they can assist the customer with a problem
The customer agent wants some confidential information, such as the customer's account number or order number.
Even for these reasons, the customer agent has to be trained. You cannot be too casual and tell the customer to move to a DM. Customers need an explanation as to why you want to have a private chat.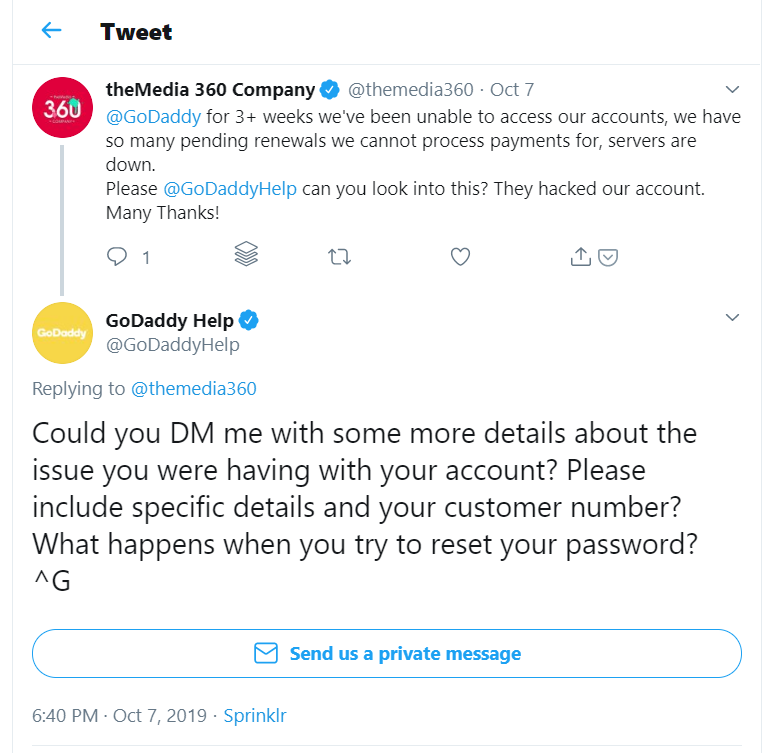 This response at GoDaddy twitter handle is all you need to follow. It has all the components:
A friendly tone
Direction to the next step
Request to DM with an embedded link
3. Use the Emojis Smartly; don't overdo
There are times when you don't feel like expressing your emotions through words and use emoticons and emojis instead. Now, brands are also using emojis in their social customer care responses. And for the social media maniacs, this strategy works. They find it interesting when they get a response with some cute emojis inserted.
However, what social media customer agents have to learn is that emojis must only be used to embellish your response. The customer wants the answer through words. He does not have time to decipher what you mean by those winking smileys.
The Right Way to Reply
So, when it comes to social customer care support, make sure to take care of all these steps.
While it may not be possible to respond to all the queries, reply to as many DMs as you can.
Handle the negative comments politely. Your tone should be helpful, assuring the customer that you are there to provide a solution. Address their concerns and get back to them shortly.
You may encounter customers who are full of questions. Assist them patiently and, if needed, talk to them on private message.
Keep your platform interactive. Don't forget to post about the different festivities and public days.
Be grateful to the customers for their positive response and compliments. Mention their names when replying to their comments.
Final Thoughts
Believe it or not, social media plays a key role in customer retention these days. Many buyers trust online reviews and feedback for making purchases. Also, the response rate from a brand on different social media platforms affects customer experience. Companies have to make sure that their social customer agents have the required set of communication and writing skills to provide great service to the customers.