No matter how good your product is, poor customer service may cause you to lose your clients. For building trust with customers and retaining them, you have to provide excellent service.
The way your customer service team handles customers impacts the inflow of new customers and the turnover of the existing ones. It will not be wrong to say that a customer service team is the face of a company. The skills and qualities of a customer service team can enhance the customer experience.
Customer Service Does Matter
Customer service has become an integral part of a business' growth. Studies reveal that 82% of people switch to other brands and options if they are unhappy with the customer service. Shoppers demand attention, and when they don't get it, they leave.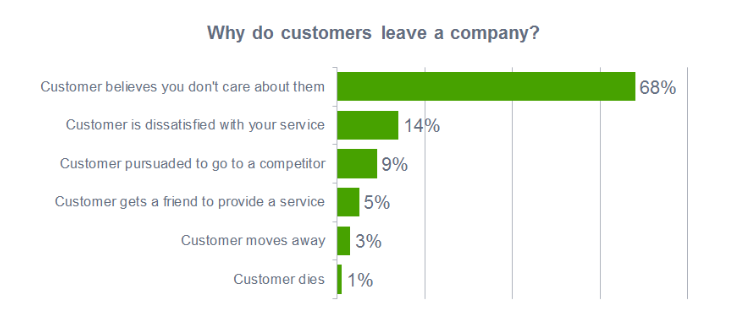 The damage does not stop here. One unhappy customer may mean losing hundreds of potential customers. White House Office of Consumer Affairs reveals that an unsatisfied customer shares his/her story of bad customer experience to 9-15 people. And 13% of unhappy customers share their experiences with 20 people and more.
Talk about the posts and reviews on social media. According to a survey by Nielsen-McKinsey, one negative social media post about customer service has the same power to influence a customer's buying decision as five positive reviews.
Things You Can Do to Help Your Employees
It's your customer service team that serves as a bridge between you and your customers. The tools you use may offer a quick and easy way to process the order/request. But if your customer service team is not skilled, you are far behind.
Dealing with customers is a hard job and can be frustrating too. However, you have to keep your team motivated through different strategies and ideas. Let's have a look at some of the ways that may help to boost the morale of your customer service team.
Aim for Empathy
The members of your customer service team have to be empathetic and patient. While some customers are inquisitive, others may love to talk. Your customer care reps should have the ability to handle all sorts of customers with a happy face and calm composure.
Continuously Improve their Communication Skills
Clarity of speech is considered a great virtue in customer care services. Make sure that each of your customer reps is aware of the promotional offers, discounts, and other services. Your customer care team must convey the policies. The ability to adapt to different situations is also helpful.
Build their Tolerance
Sometimes you may encounter rude and misbehaving customers. However, you can't shout or yell at them. Customer care reps have to have thick skin and the stamina to treat customer's satisfaction as a priority. They have to humbly accept their mistakes and provide an alternative solution to the customer.
Address Their Concerns
Customer reps can satisfy their customers when they, too, are happy with the employer. You should pay attention to their concerns and problems.
What are they thinking of the company? Is there any policy that's bothering them? Are they happy with the work environment? Your team may not feel comfortable answering these questions in one-to-one meetings.
You may place a suggestion box or survey to get feedback from your employees. It's a great way to know if they would like to have some training or some other opportunities.
Engage them in Healthy Activities
Another way of keeping your staff motivated is to involve them in healthy activities and training. You may take them out for lunch or recreational activities. For instance, you may dine at your favourite place. While this will provide an opportunity to interact with your staff, it will also help build trust.
Moreover, you can present them with some souvenirs and gifts. These hangouts can be educational as it will allow your employees to observe customer service practices. They will know better how a good customer experience adds value to service and may get motivated to do the same.
Brainstorm Ideas
Instead of formal boring meetings, you can have friendly chat sessions with your customer service team. Make them a part of the process, take their input. Who knows that someone will come up with an exceptional idea that may help you improve your customer care strategy?
When the reps are made part of the process, they will feel valued. And this will eventually help them to work more enthusiastically. These sessions help improve coordination across different departments and also prove beneficial for strong work relations.
Final Thoughts
Customer service is crucial for any business to thrive. A good product, a brilliant idea, and effective CRM all go in vain if people behind them are not engaged in what they do.
A customer service team is a frontline, the face of a business. Unhappy customers can cause you to lose hundreds of potential customers, as shoppers love to share their shopping experience with others.
So, you have to make sure that you put every effort into keeping your customer service team happy. Unsatisfied employees cannot contribute positively. Address their concerns and make them feel "valued." Incentives, training, and informal sessions may help boost the morale of the team. A strong relationship between you and your customer service is a means to develop a happy relationship with your customers.